PR
Skyworth and Airties partner to deliver the latest "Astro Fibre" Wi-Fi 6 Dual Band MESH Router for Astro in Malaysia.
2023.03.28
Shenzhen and Paris - March 24, 2023 –
Shenzhen Skyworth Digital Company Ltd
, a world-leading provider of multimedia and broadband consumer products, and
Airties
, a leading provider of managed Wi-Fi solutions for service providers globally, proudly deliver one of the latest
Wi-Fi 6 MESH Router solutions
for
Astro
, the leading content and entertainment company in Malaysia.
The RG21 "Astro Fibre" Wi-Fi 6 Dual Band MESH Router product features a Broadcom
BCM 6756 processor
, which supports a quad core ARM Cortex CPU, dual 802.11ax spatial stream 160 MHz WLAN radios and an integrated 802.3 compliant Gigabit interface and 4 x Gigabit Ethernet ports (1 x WAN + 3 x LAN). The product supports a smooth and seamless "always connected" experience throughout subscriber homes when combined with MESH add-on modules to fulfill any potential dark spots around spaces of the home to maintain and deliver a consistently high-speed broadband service, also known with the tagline, "Wi-Fi Kencang". The product represents Skyworth Digital's commitment towards the highest quality consumer hardware, optimized high performance radio standards as well as industrial design capabilities for the modern connected home.
Leveraging Airties' Smart Wi-Fi software, the RG21 brings a best-in-class high speed internet experience to Astro Fibre homes. The Wi-Fi 6 mesh gateway is complemented by Airties' Smart Wi-Fi SaaS offering, which includes Airties Edge Smart Wi-Fi software for gateways; Airties Cloud SaaS management platform, and a customized version of Airties' companion app, called the Astro Fibre App, that gives subscribers the power to fully control, monitor and secure their home network.
"Skyworth Digital is very excited and honoured to work with Astro as the technology partner and provider of premium high speed broadband router product for Wi-Fi Kencang service, together with Airties managed Wi-Fi solution. Skyworth's broadband product portfolio is currently in a period of fast growth. Our broadband and Wi-Fi technology partnerships continue to mature and evolve in line with the ever-growing need for better and faster broadband services around the world" said Srithar Bala, Vice President of Strategy, Partnerships & Marketing at Skyworth Digital.
Tan Sian Tuang, Head of Broadband Business, Astro said, "We're delighted to partner with Skyworth and Airties to provide high-speed internet through Astro Fibre thus complementing our goal of delivering the best entertainment experience and broadband value proposition in the market through their Astro Set Top Boxes, Astro GO and global premium streaming services. Our broadband plans start from 50 Mbps up to 800 Mbps with the latest Wi-Fi 6 certified router offering significantly improved reliability and connectivity and flexible mesh subscription option. For the best entertainment and value, customers can also choose to create their own entertainment bundle by adding on Astro TV Packs".
"Astro's new Fibre service delivers the ultimate Internet connectivity, and we're extremely proud to work with Skyworth to support Astro's rollout through Malaysia," said Metin Taskin, CEO & CTO of Airties. "Our Smart Wi-Fi solutions dynamically optimize Wi-Fi performance and allow operators to manage their subscribers' connected home experience. In partnership with Skyworth, we look forward to supporting Astro as it continues to gain market adoption for its exceptional fibre service."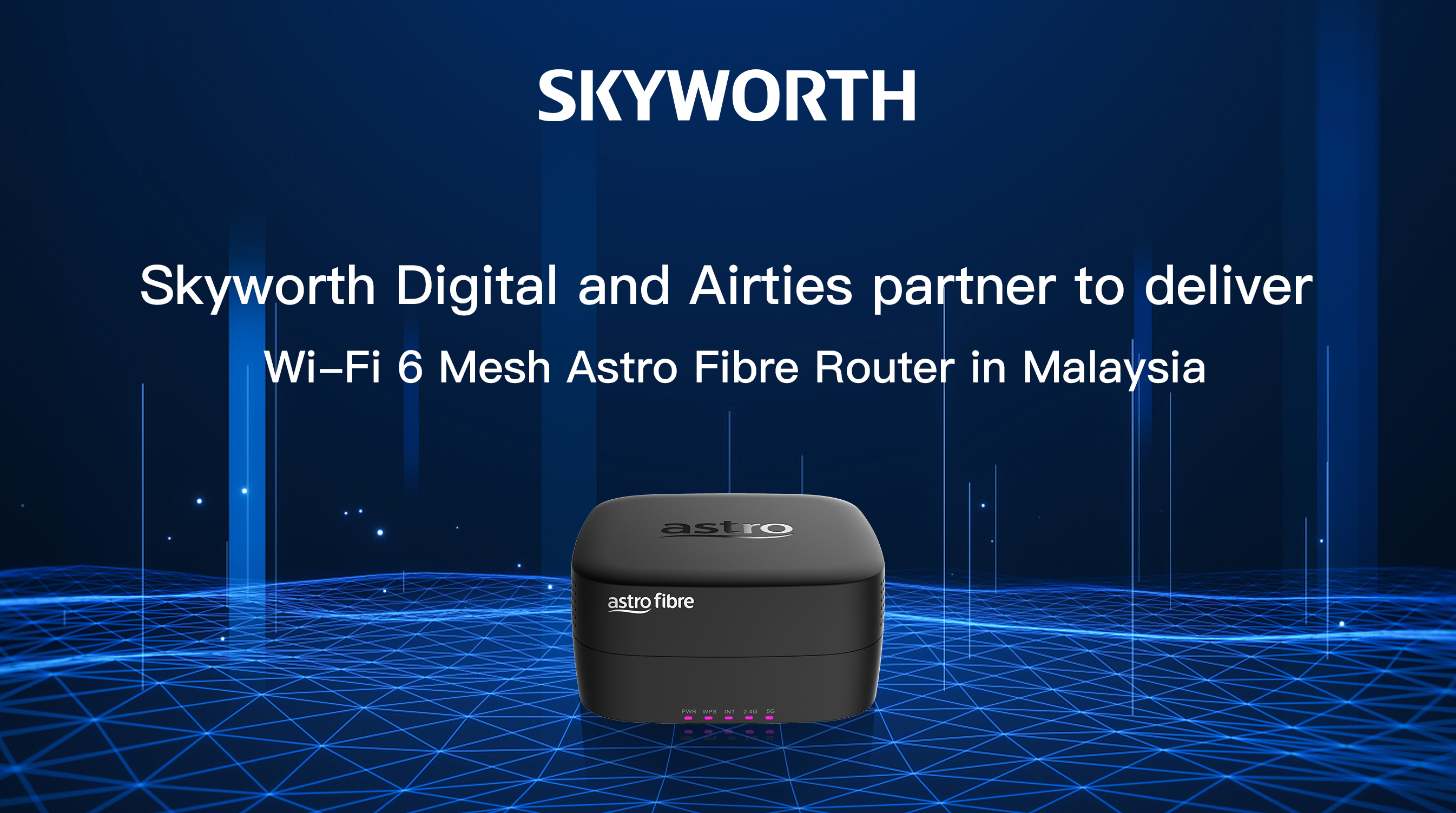 About Shenzhen Skyworth Digital Technology Company Limited
Shenzhen Skyworth Digital Technology Co. Ltd. is the world's leading provider of connected home products and solutions. Shenzhen Skyworth Digital Technology Company Limited is continually evolving product and service offerings to satisfy the ever-changing content consumption habits of a global customer base, by providing innovations in networking, digitalization, and solutions for the connected home. Today, Shenzhen Skyworth Digital Technology Company Limited is the world's largest set-top box manufacturer and as well as one of the fastest growing manufacturers of broadband CPE and IoT products and solutions.
About Airties
Airties is a leading provider of managed Wi-Fi solutions to operators around the globe. The Smart Wi-Fi portfolio from Airties includes Airties Edge, smart Wi-Fi software for gateways; Airties Cloud, a cloud-based management platform and its companion app, Airties Vision; and Wi-Fi mesh extenders. Operators turn to Airties for the design, implementation, and ongoing optimization of their customers' broadband experience. Airties' customers include AT&T, Deutsche Telekom, Singtel, Sky, Telia, Telstra, Vodafone, and many others. More information is available at www.airties.com.
About Astro
Astro Malaysia Holdings Berhad (Astro) is Malaysia's leading content and entertainment company, serving 5.6 million homes or 72% of Malaysian TV households, 8,000 enterprises, 17.5 million weekly radio listeners across FM and digital, 14.0 million digital monthly unique visitors and 3.2 million shoppers across its TV, radio, digital and commerce platforms
At Astro, we are committed to entertaining, informing and engaging our customers with the best local, regional and international content. As the largest content creator in the country, we produce and commission over 11,000 hours of local and vernacular content yearly, creating countless memorable moments for millions of Malaysians.
We offer the best of home entertainment with our 4K UHD Ultra Box and HD Ulti Box, both of which can be self-installed and run on either satellite or broadband. To broaden our reach to digital natives and expand our content choice, we introduced the all-new Astro experience, enabling customers to stream their favourite content from Astro GO, Disney+ Hotstar, Netflix, HBO GO, TVBAnywhere+ and iQIYI including live sports and our flagship shows all in one place via satellite and Astro Fibre, our own internet service.
Our own streaming service, sooka, offers the world's best live sports, winning local entertainment and exclusive originals uniquely catered to millennials.
With Astro GO, our companion streaming app, customers can stream over 90,000 On Demand titles anytime, anywhere. Find out more information via
www.astro.com.my
​
https://products.astro.com.my/astro-fibre/app
​​​​​​
Table of Contents