PR
Seamless and rapid deplyment of Hybrid Broadcast/OTT Services
2015.09.23
Pay-TV service providers and content owners want to satisfy their customers' growing appetite for OTT video and TV, including on-demand, time-shifted, live and downloaded content. However, without the necessary equipment and security measures to keep content secure, they may expose their valuable assets.
Industry veterans Irdeto, Inview and Skyworth have combined their expertise and product offerings to protect content and meet customer expectations transparently and cost-effectively.
KEY BENEFITS OF THE IRDETO-INVIEW-SKYWORTH INTEGRATION
This diagram illustrates how Irdeto, Inview and Skyworth can rapidly deploy an effective hybrid end-to-end solution. The overall system uses Irdeto's high-security CAS and powerful DRM to encrypt valuable content. The content is run on the Skyworth set-top box and Inview client software, ensuring Pay-TV requirements are met through Cable, DTH and IP Networks. Together the three companies offer:
- Off the shelf, pre-integrated solution
- Hassle-free deployment with leading security technology
- Reduced time to market
- Reduced integration cost
Irdeto, Inview and Skyworth are working to address customer needs in Latin America and across the globe.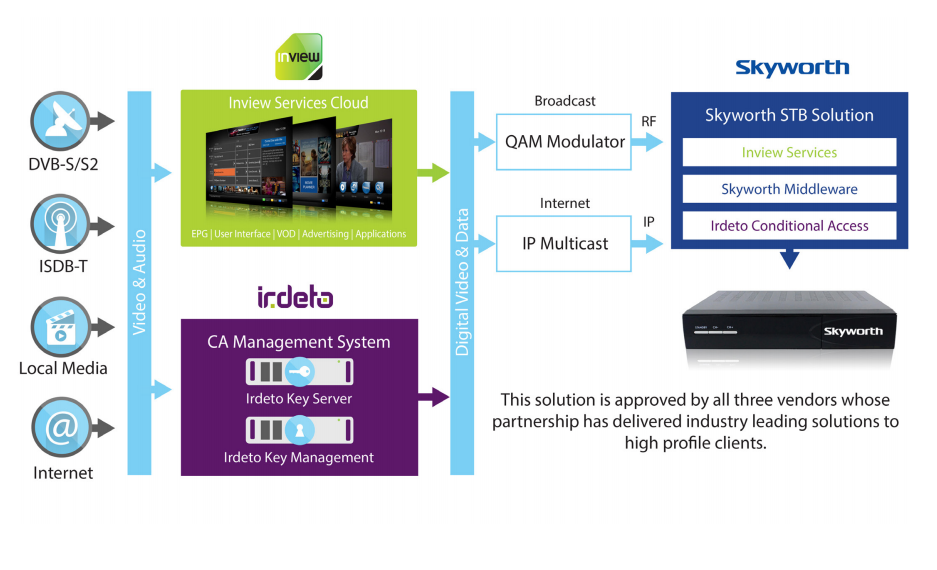 Table of Contents